RESIDENTIAL BUILDING SURVEY, ALDERLEY EDGE, CHESHIRE 
1950s EXTENDED DETACHED
"Building Sense did a building survey for us on a house we were planning to buy. The survey was very thorough. The surveyor took the time to take us through some of the issues on site at the end of the survey, and also to talk us through the findings in the report. Luckily none of the issues were major, and we feel we really know what maintenance the property needs. Highly recommended."
Adam Ainsworth, Didsbury
ISVA HOMESURVEY, STRETFORD, MANCHESTER
1930s EXTENDED SEMI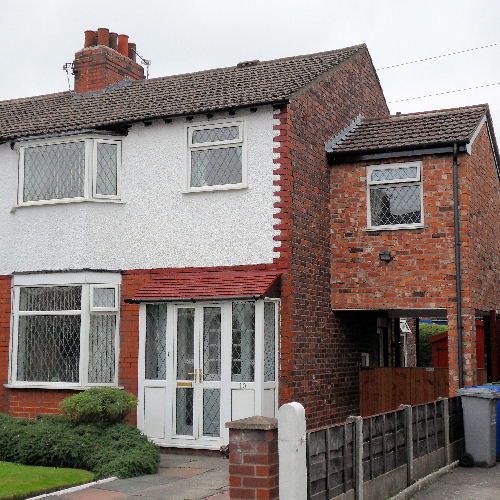 "As we were not applying for a mortgage, we had to employ our own surveyor for our House purchase in Manchester and, luckily during an internet search, we came across Mark.
Mark carried out a Residential Home Survey for us and his commitment, understanding and communication were first class. He gave us the option of attending at the end of the survey to discuss his findings but unfortunately this was not possible.
However, he provided a verbal report that evening and followed up next day with a written report. The detailed report provided us with information to assist with
Mark is fully hands-on and upfront and easy to do business with you and he always has time to talk things through. our house purchase. He also provided a measured survey plan and photographs which were extremely helpful.
We would definitely recommend Mark to any future customers – please do not go elsewhere without speaking to Mark first !!"
Peter and Sandra, London
RESIDENTIAL BUILDING SURVEY: 1970s DETACHED HOUSE
"We engaged Building Sense to do a full building survey of a 70's house we were planning to buy. Being naturally conservative it was important to us that we got a full inspection of the property, answers to the usual "what's caused that?" and "is it a problem?", and general peace of mind. We got all of that and more.
They sorted out the time and date with the estate agent, and once he'd done the survey we were given the option to join him at the property to look at any specific defects or concerns. On this occasion this wasn't an option for us, but Mark kindly sat down with us slightly later on in the day and talked us through a set of very detailed photos on his iPad. The fact he was able to explain and reassure us (with standard, but reasonable caveats!) on everything he found was fantastic, and made us certain we were buying the 'right house'.
The written survey turned up quickly (in electronic copy too; so much easier than having one printed copy posted out!), and I was able to have a brief conversation with Mark over some of the content. My previous 2 experiences with national surveying firms have been quite disappointing in this respect; once the survey is done, they're not enormously interested in answering questions, or any sort of after-service.
Finally for an modest additional cost, Mark was able to draw us some detailed scaled plans, which helped enormously when pre-ordering a fridge, cooker and getting prices for curtains for a few of the rooms.   So to sum up – I can't recommend Building Sense highly enough!"
Tom and Jo Williams
RESIDENTIAL BUILDING SURVEY, DIDSBURY, MANCHESTER
VICTORIAN TERRACE
"We recently purchased a house and needed a surveyor. I had been disappointed in the past by the surveyors that the bank provided, so looked to find our own independent surveyor.  We contacted Mark and found him to be professional and extremely knowledgeable.
The day of the survey he went out of his way to collect the keys and estate agent couldn't get to the property.
He contacted us as soon as the work was carried out (in fact he kept us up to date throughout the whole process – which is really important when you are trying to keep things moving).
He offered us a face to face meeting to discuss the survey – he was really thorough and took really clear photos of all the issues.  The report was with us really quickly and was very clear.
We also contacted him on a number of occasions after the survey just to get advise and he was always happy to speak to us.
All in all really good, friendly service, and professional.  I would highly recommend."
Louise Hughes